Our Wood
We built our reputation as North America's artisan floor specialists by learning everything there was to know about wood
Wood is more than just our livelihood - it's our passion. That's why we are extremely selective about the type of wood we use and the mills we source from. Choosing wood with the best grade, colour and character at the outset is perhaps the single most important thing we can do to guarantee that a CRAFT floor will surpass our customers' expectations every time.
Every CRAFT floor starts with an engineered core of Canadian structural grade Spruce. Our Spruce
is considered to be a highly valued renewable resource since it is harvested from responsibly managed Canadian forests where emphasis is placed on environmentally supportive forestry practices with emphasis towards a sustainable future. CRAFT is unique in that the core of every floor has been third-party certified by the Sustainable Forestry Initiative® to be legal, responsible and sustainable. CRAFT is also proud to be an Associate Member of BC Wood Specialties Group and to support the wood products industry in British Columbia. Read
our environmental impact info and credentials
, including SFI CoC and GG Gold certifications (on every CRAFT floor) evidencing our sustainable manufacturing practices, LEED eligibility, and contribution to healthy home.
Hickory
HARDWORKING FLOORS FOR BUSY ROOMS: MEET HICKORY
Homes contain lively living spaces, and naturally strong resilient Hickory floors stand up to daily life. CRAFT homeowners love Hickory, making it our most popular hardwood.
From a craftsman perspective, Hickory is one of the most challenging North American wood species to work with. Seasonal availability, extreme hardness and considerable variability in grain pattern are just a few of the reasons most manufacturers don't pay much attention to hickory, or stay away from it all together. However, despite these challenges, our craftsmen have developed a deep love and appreciation for Hickory. Its beautiful tight grain and myriad of dramatic and flowing grain patterns, make for a truly unique real wood floor. CRAFT's Hickory is third-party verified by the Sustainable Forestry Initiative® to be from legal and responsible sources.
White Oak
NOT ALL OAKS ARE CREATED EQUAL
Contrary to popular belief, not all oaks are created equal. That's why we have selected American White Oak as our preferred species. Commonly known as White Oak, it is the most sought after of the oaks due to its consistent cream to light beige colour, high degree of stability, and a versatility that is unparalleled by any other wood species. Our artisans love working with White Oak because there are so many interesting things that can be done with it. From fuming, staining and glazing that can transform it into countless shades and colours. CRAFT's White Oak is third-party verified by the Sustainable Forestry Initiative® to be from legal and responsible sources.
Black Walnut
THE AMERICAN EXOTIC
Black Walnut ranks as the most sought-after hardwood because of its rich, dark colour and beautifully figured grain. In fact, the unique grain and colour tend to put it on an equal footing with rare and expensive tropical hardwoods, which led to its title of "American Exotic". Perhaps that's why Rolls Royce and Bentley choose it for the custom millwork in their exotic cars and why it's a standard fixture among the world's most luxurious yachts. Our artisans love working with Black Walnut because it is inspiring to be around something so beautiful. CRAFT's Black Walnut is third-party verified by the Sustainable Forestry Initiative® to be from legal and responsible sources.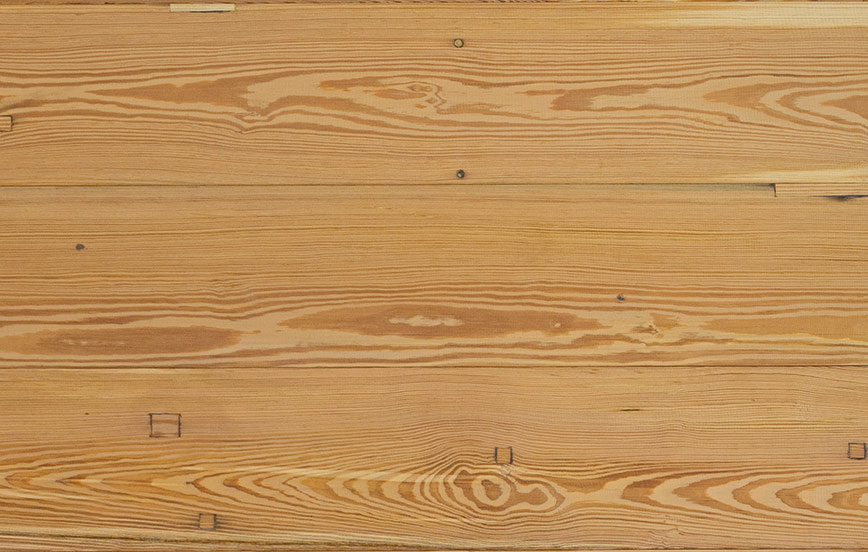 RECLAIMED HEART PINE
OVER A CENTURY IN THE MAKING
Genuine reclaimed Heart Pine has been crafted out of 100 year old beams and decking salvaged from historic buildings across rural America. Through the laborious and time-consuming process of reclaiming, CRAFT's artisans are able to restore, by hand, this wonderful resource. Through numerous painstaking techniques, our craftsmen are committed to taking America's Heart Pine, now all but gone from its native forests, and giving it a new life. Preserving a moment in time from the past, so it can be cherished for generations to come.